There are so many different types of Christmas lights that their sheer number will overwhelm and confuse you. This is where we come in – to tell you about the varieties of Christmas lights and what purpose they're best suited for.
Before you choose your Christmas lights you should know that Christmas lights (whether indoor Christmas lights or outdoor Christmas lights) come in various categories – light types, bulb types, power sources, Christmas light colors, and bulb sizes.
Christmas Light Types
There are too many lights, but you can stream down your choice depending on what you want to do.
#1. – Pathway Lights
This is one of the most popular outdoor Christmas lights. It also comes in varieties. For instance, there are solar pathway lights, but these will hardly be useful to you during the winter holiday. So why not swap that for the Christmas pathway lights?
These outdoor lights provide several benefits, such as enhancing the decor of your outdoor space thanks to their diverse styles and colors and illuminating your walkway.
What It's Best Used For?
To provide illumination for driveways and walkways.
#2. – Rope Lights
A rope light can also be referred to as a light strand. It's a tube with internal lights and it's commonly used for holiday decorations. Its flexibility makes it easy to twist the light strands into various shapes or install them on frames.
The light strand is usually very long (several feet long) and can even be connected to other light strands if you want to use it across the entire house. It's mostly used as indoor-only lights.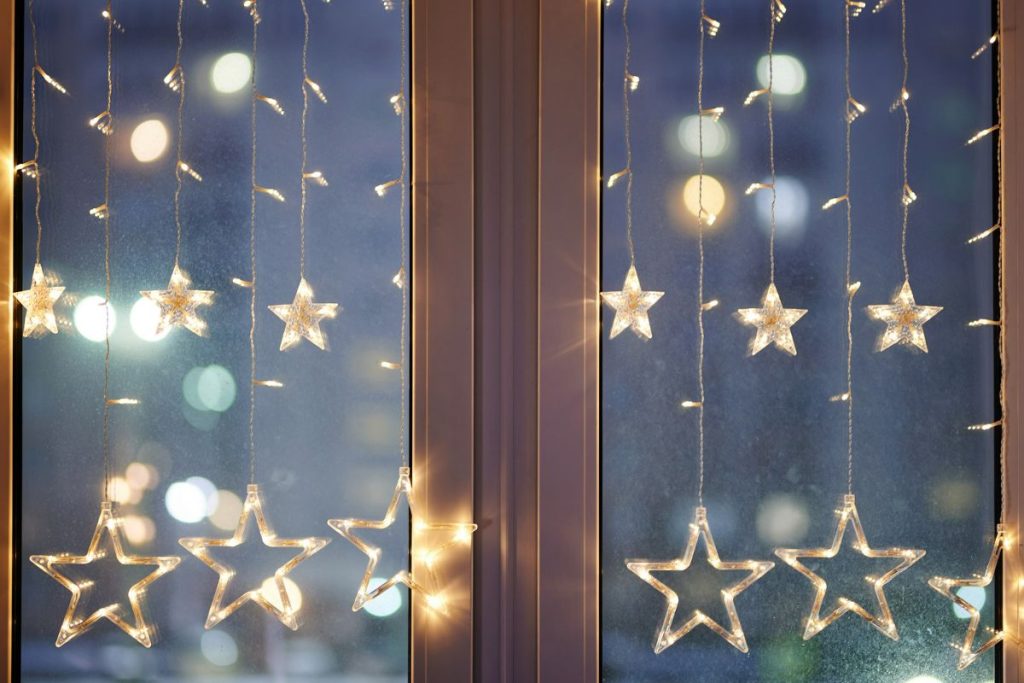 What It's Best Used For?
These holiday lights are best used to spice up kitchen cabinets, doorways, garage doors, or windows.
#3. – String Lights
Light strings are similar to rope lights because they're long and rope-like but have distinct differences. String lights are hands-down the most popular and versatile choice of lights for Christmas decorations. A string light is made up of a long string that has multiple bulbs hanging from it.
It comes in various sizes, such as mini lights, G12, C9, or C7. They can be used both indoors and outdoors as accent lighting. There are LED string lights and other types of string light displays. It all depends on your preference.
What It's Best Used For?
String lighting displays are used for decorating your ceiling, roofline, landscape, or lighting Christmas trees.
#4. – Net Lights
These plug-in Christmas lights are your go-to option when you want to illuminate your shrubs or bushes. This is ideal for homeowners with a lot of vegetation in their outdoor space. Net lights come in a grid-like design that contains multiple lights.
When lit up, the uniformity in its display comes out effortlessly, and it greatly beautifies your outdoor space. Before you plug it in, put it on your greenery.
What It's Best Used For?
Net lights are best suited for illuminating and decorating your bushes.
#5. – Icicle Lights
These Christmas lights are in the form of icicles. It features strands that drop from a longer string. It's usually white and gives your home that snowy Christmas glow.
What It's Best Used For?
Icicle lights are usually hung along the roof of the house.
#6. – Trunk Lights
This Christmas light is ideal for homeowners that have several tall trees in their compound. This light is used for decorating tree trunks by wrapping them around them. You should go for this if you want to make your trees part of your holiday displays.
What It's Best Used For?
Trunk lights are used for illuminating and decorating trees.
Christmas Light Colors
Christmas lights come in varying colors. Chasing Christmas lights can flash in different colors and patterns, and since we all have different preferences and tastes, different colors/lighting modes will appeal to us. Below are the common colors used for Christmas decorations.
#7. – White Lights
White Christmas lights are of two types – cool white and warm white. The former has an icy look and outdoor and indoor applications. It fits more in the category of outdoor lights, but it's also used for illuminating the Christmas tree.
Warm white, on the other hand, is also used indoors and outdoors. It gives a more traditional look.
What It's Best Used For?
Warm white lighting gives warmth to Christmas displays, while the cool white lighting illuminates wintry-looking displays.
#8. – Red Lights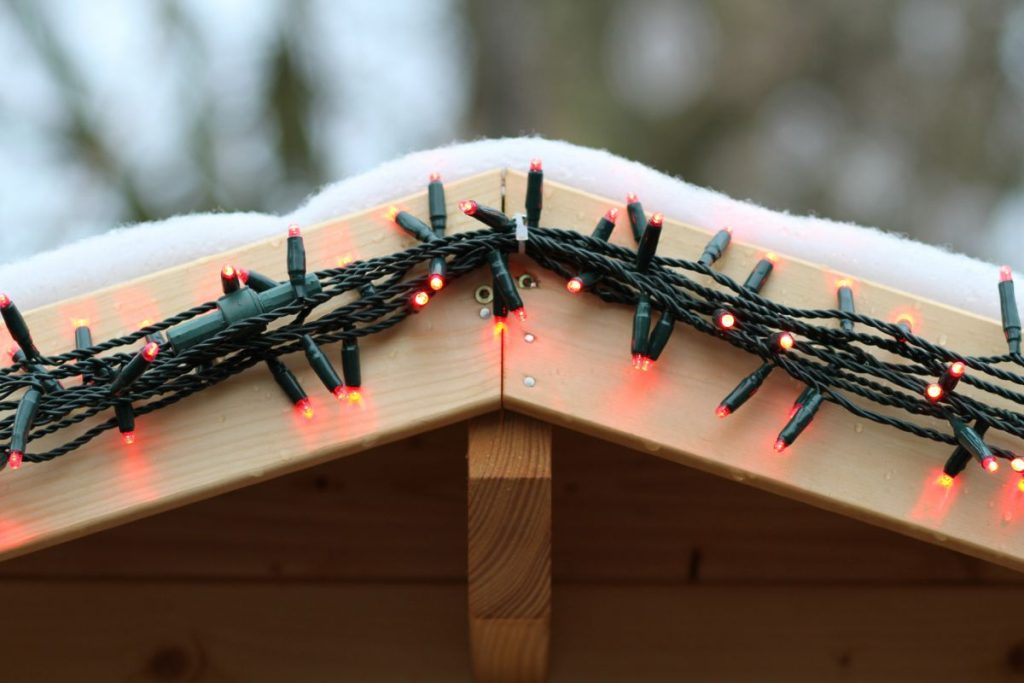 This is the most traditional and popular Christmas light. It's closely associated with poinsettias, Santa Claus, Holly berries, etc. Red is flamboyant, so it's used as accent Christmas lighting.
What It's Best Used For?
To give your home that traditional Christmas glow.
#9. – Blue Lights
Blue is a cool color by default, making it perfect as a complementary light to other colors, such as red and white lights. It completes the winter wonderland look of your home.
What It's Best Used For?
For adding further accents to your home's lighting display.
#10. – Green Lights
This is another traditional Christmas light color because its color is the same as that of a Christmas tree. Like blue lighting, green lights are best used with other Christmas lights.
What It's Best Used For?
Green lights are used to make your holiday decorations colorful and give off that traditional Christmas vibe.
#11. – Multicolored Lights
This lighting features strands with different colors – orange, purple, red, white, green, and blue. This lighting gives off a vibrant and colorful display.
What It's Best Used For?
To liven up the atmosphere.
Christmas Light Power Sources
This has to do with the classification of Christmas lights based on their power source.
#12. – Plug-In Lights
These are Christmas lights that are powered by conventional electricity. They come with a plug that is connected to extension cords or power outlets, depending on the setup. It's more popular than other light sources used for decorations during the holiday season. Plug-in light is known for having bulb burns.
Its advantage over other power sources is that you don't have to worry about a flat battery in the case of battery-operated Christmas lights or the solar charge running out in terms of solar lighting. As long as there's electricity, plug-in lights will illuminate your home. The only time plug-in Christmas lighting will fail you is when there's a blackout which is a rare occurrence.
What It's Best Used For?
Plug'in lighting is best suited for illuminating homes with available power outlets or extension cables as an alternative, which describes virtually every home. It's the most reliable lighting power source for the winter holiday season.
#13. – Solar-Powered Lights
These lights rely on solar power. This is collected by a solar panel and then converted into usable electricity, which powers the lights. This is an eco-friendly way of illuminating your home for the holiday season, and it is relatively more affordable than plug-in lighting. However, Christmas falls during the winter season, and the conditions don't favor this type of lighting, making it unreliable. It's still an option.
What It's Best Used For?
This lighting is best used in warmer regions where the weather will be suitable for solar-powered lighting to function optimally.
#14. – Battery-Powered Lights
Battery-operated lights are the go-to options if you want to decorate a home with hard-to-reach or unavailable power outlets. Battery-operated lights are ideal for illuminating areas with high foot traffic because there are no wires to trip over. For instance, you can use battery-powered lights to illuminate a Christmas wreath hanging on your door.
Their durability depends on factors including the battery quality, type of light (incandescent or LED lights), etc. We recommend you consider all these factors if this is what you will use for your light display.
What It's Best Used For?
This type of Christmas light is best used for illuminating areas with high foot traffic to prevent wire-tripping incidents.
Type of Christmas Light Bulbs
There are two common bulb types used for Christmas decor – incandescent lights or LED lights. They both have their pros and cons, and your choice comes down to taste or preference.
#15. – Incandescent Bulbs
While LED lighting is best for its brightness, traditional incandescent bulbs are known for their warmth and are less expensive. However, its affordability doesn't translate to cost-effectiveness because they're not as durable as LED lighting. Issues such as a burned-out bulb are more common with incandescent bulbs because they burn out more quickly and become hot to the touch after being on for some time.
What It's Best Used For?
This lighting is best suited for warmer and relatively dimmer displays.
#16. – LED Christmas Lights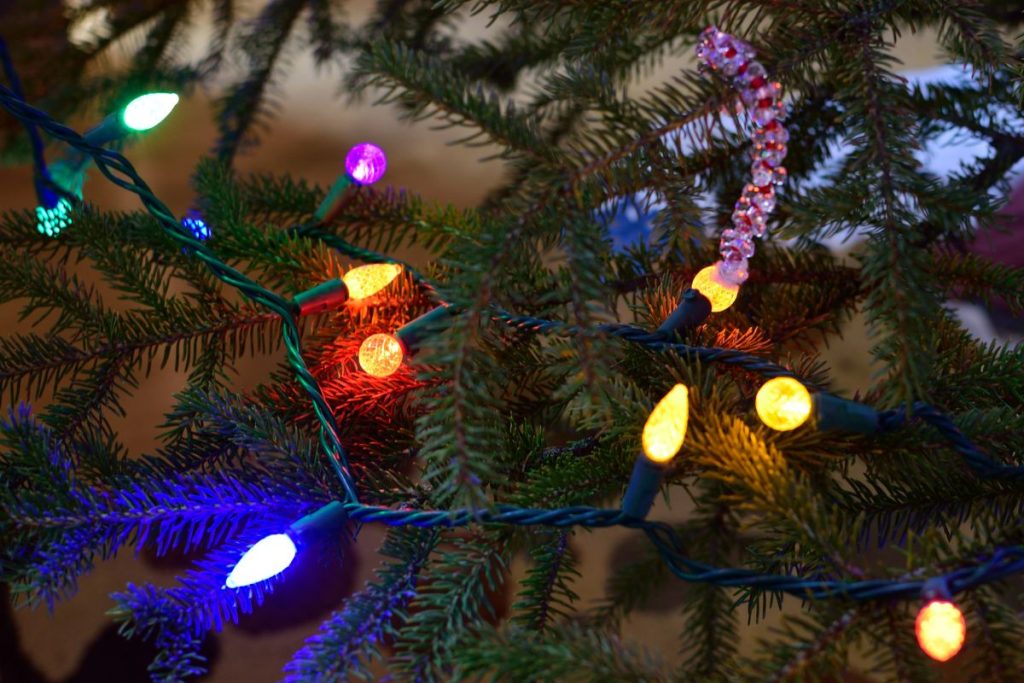 These bulbs have a lot more benefits than downsides compared to incandescent lighting. LED lighting is cooler to the touch, shines brighter, lasts for much longer, and has more energy efficient than incandescent lighting. However, it's more expensive than incandescent lighting, but this isn't a downside since it lasts much longer. This bulb type comes in different shapes, such as the round globe shape.
What It's Best Used For?
LED lighting is best suited for vibrant, energy-efficient, and durable lighting displays.