Building a chicken coop for a small flock of hens is not particularly difficult. Plus, the internet is full of different plans for all sorts of chicken coops. The only downside is that most of them are pretty basic, featuring just an open area and enclosed premises. You only get some building plans, the materials you need to use, dimensions, tools, how to prepare the terrain, and stuff like that. There is nothing about adding a solar heat lamp, automatic food dispenser, automatic water dispenser, etc. These things will significantly make it easier for you to run a chicken coop. So here is a DIY guide to building a modern chicken coop.
Find a Spot
So, before you start searching for plans, materials, and woodworking tools, you need to find the spot where you want to build your chicken coop. Ideally, a place under a massive tree is always a good idea. A tree is excellent because, in summer, it will keep the chicken coop cool and away from the hot summer sun. In winter, after the leaves have fallen off, the chicken can bask in the winter sun. If you do not have any such tree on your property, you will need to cover the open part of the coop with some shade cloth.
In terms of size, two to three square feet per chicken is recommended. That is for the closed section, whereas for the outside coop, the minimum is four to five square feet per bird.
Frame & Materials
Once you identify the perfect spot and decide about the size, you can start looking for plans. As mentioned earlier, the internet is packed with chicken coop blueprints, each of which can be customized.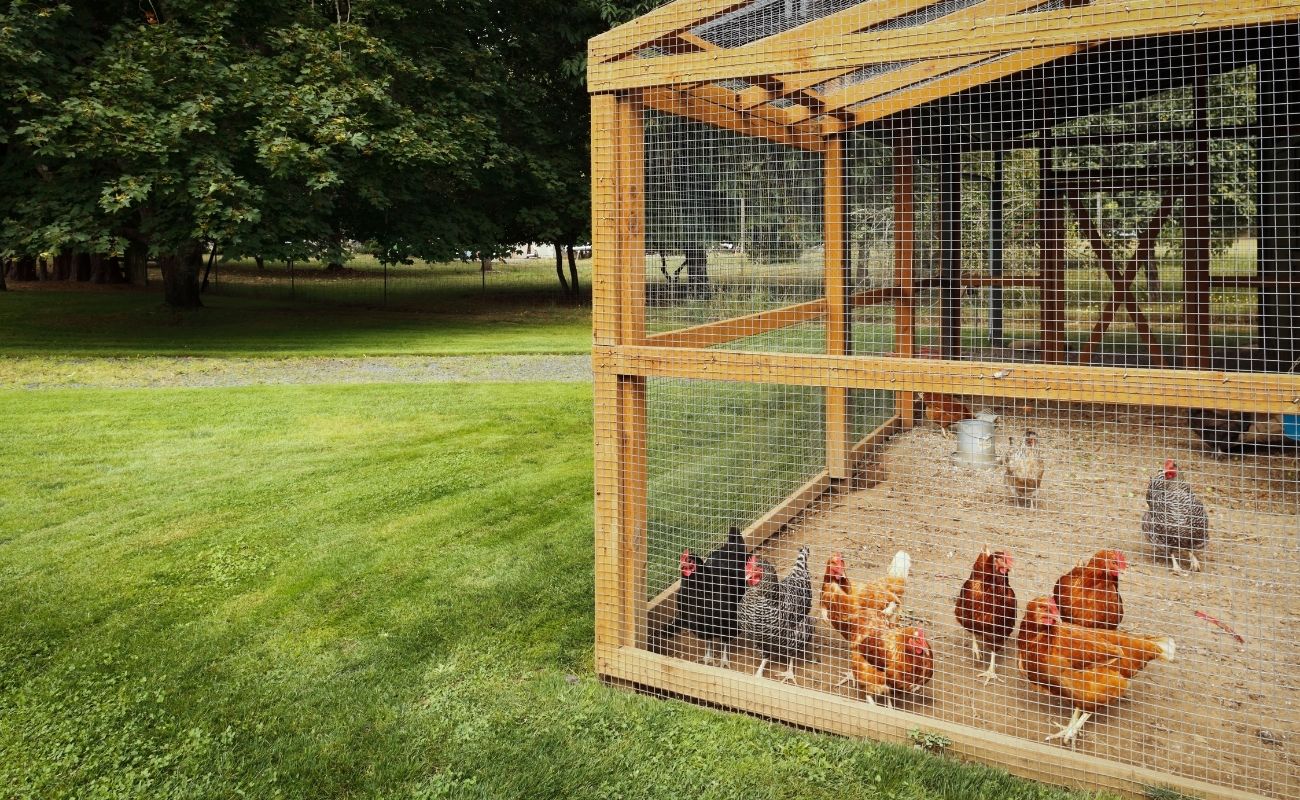 The most straightforward approach is to go with a rectangular frame. You can add the different components later. Rot-resistant lumber like redwood or cedar is considered best. These types of woods are only rot-resistant, but they also do not contain any heavy metals like some types of pressure-treated lumber. The open part is a no-brainer; chicken wire on all sides is a must, and it is how you stop predators from entering the chicken coop.
Chicken Coop Tech
Once you build the chicken coop, it is time to turn toward the tech stuff that will make things way more convenient for its inhabitants and you. Here is a list of tech upgrades that can make your chicken coop home for your chickens.
Solar Heat Lamp
If you live in an area where winter temperatures tend to go deep under zero, you need a solar heat lamp to keep your chickens warm. Solar heat lamps are easy to install. They use free energy accumulated from the sun and are easy to come by. You should make those long and cold winter nights a bit more convenient for your flock of chickens.
Ventilation
According to experts, the importance of ventilation cannot be overstated. They say that as long as your chickens are protected from direct rain and wind, plenty of air exchange is needed at all times. Without enough ventilation, your chickens can have respiratory issues, breed pathogens, and become more vulnerable to frostbite. An air-tight coop is recommended only at night when the temperatures drop below 30 or 40 degrees.
Automatic Water Dispenser
Either you will need to bring water in buckets at least twice per day, or you let an automatic water dispenser do it for you. Nowadays, automatic dispensers are as affordable as they are practical.
Automatic Food Dispenser
For the chickens, digestion is a process that creates heat, which means it keeps them warm. In addition, an automatic dispenser will make sure that they have enough food in front of them at all times.
Bottom Line
Take care of your chickens and make a plan that is convenient for you and your flock of chickens. The best part of all, a small investment in tech can go a long way and make everything around the chicken coop simpler and better. As a result, your chickens will be healthier and more productive. On top of that, you won't need to spend long hours running your mini chicken farm.